How To Build a Website From Scratch in Less Than 1 Hour!
You may think, "knowing how to build a website, I can't possibly learn that". However, creating a website is easier than you think. You don't need to know HTML/CSS code or be a web design expert. You don't even have to spend hours reading guides or watching video tutorials on how to build a website.
This step-by-step guide on how to create a website from scratch is suitable for everyone, including beginners. If you follow all the steps below, you'll be able to build a website from scratch in less than an hour.
Most paid web designers use this same method. So, this guide will save you money that you can use more profitably to promote your new website or to create several websites.
The steps outlined in this guide are the same steps that I follow when creating my own websites, including this one. I'm not a web designer and I am not a fan of HTML/CSS/JS code. Yet, I've always built my own websites.
So, if I did it, you can do it too!
In this guide, I will teach you how to make a website by yourself. I will also help you find good WordPress templates and decide if a website builder is a good solution for you. There are a lot of software to build websites and even some free website builders. Nevertheless, you need to understand if they are the right choice for you, if they are within your budget and if they are suitable for the size of your website.
You won't believe it, but you can launch your website today! Ready to go?
P.S. In the unlikely event that you get stuck using this guide, don't hesitate to contact me – I'll try my best to help you solve the problem.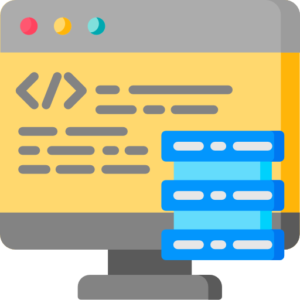 BUILDERS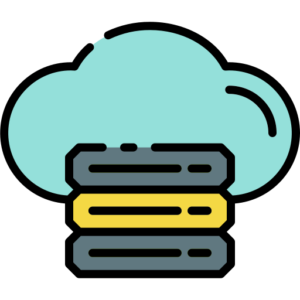 HOSTING
WP THEMES
Step 1 – Choose the Right Website Platform
If you are building a website for the first time, or if you don't have an in-depth knowledge of HTML5, it's important for you to use a super simple and intuitive platform to build websites. You need a platform that requires almost no technical knowledge.
You have many options, but I am confident you will decide to use WordPress. WP is the most intuitive platform on the market and the one I use for all my sites.
Why is WordPress the ideal choice to create your website, especially if you do not have experience in this field?
First of all, it's  totally free  and this is a great starting point.
Secondly, it is very  simple and intuitive  to use. There are also thousands of plugins (types of programs to install on WordPress) that allow you to customize everything you want, both for the design and performance of your site. At the end of this article, you will find a list of the WordPress plugins most used by webmasters.
Although WordPress is a free platform, it is  extremely powerful. It performs amazingly to create stunning designs and guarantees great performance in terms of SEO.
As shown in the chart below, many of the sites you visit are built with WordPress. Even international businesses and large brands like Sony Music, Mercedes Benz, Microsoft, Walt Disney Sony Music, Mercedes Benz, Microsoft, Walt Disney and many others rely on WP for their online operations.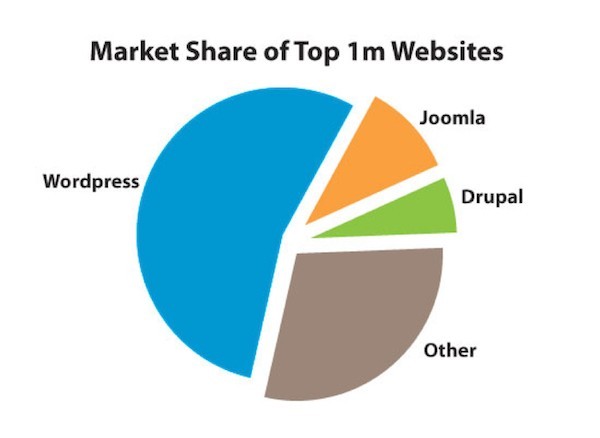 So, if you want to build a professional website quickly, on a budget, and without any technical knowledge,  I strongly recommend that you use WordPress.
Other free options available include Joomla, Drupal, and Magento. These platforms are quite popular but are not as simple as WordPress. These platforms require a learning curve to use them well and, in my experience, it is more difficult to achieve a quality result with them if you are completely lacking in technical knowledge.
Software for Creating Web Sites
User-Friendly

Most Popular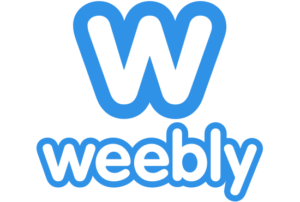 Powerful
If you have a little money to invest, one option you can consider is to use one of the various programs available for creating websites. What you can do with this software is incredible.
There are hundreds of software available to create websites and, of course, all of them are not up to the task. However, if you choose one of the best software for websites like Wix, Site123, SiteBuilder, Jimdo and some others, the results will be more than satisfactory.
What you'll find interesting is that they use a drag-and-drop technique. In practice, you can choose from hundreds of templates already prepared for different types of businesses and industries. Once you have chosen your template, all you must do to customize the website is click on the various elements to edit them or drag them where you want.

Thanks to these software building websites, your site can be online in literally a few minutes and with highly professional results.
Almost all website builders have a free version. Keep in mind, however, that the free version of the software does not allow you to have your own domain (see step 2), so this is something you need to carefully consider.
HTML5 vs Software for Building Web Sites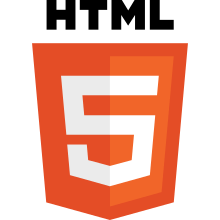 When you enter the world of the web you will find some individuals that say that if you want to have a professional and well-performing website, you must build it from scratch in HTML5 and CSS.
Technically, that's true. A totally personalized site with an exclusive design is a prestigious thing. In addition, a good programmer can create a very clean code that particularly appeals to search engines.
That said, there are other considerations to make.
Learning to use HTML5 and CSS code requires months of study. As a beginner, at first, you'll only be able to build a mediocre site (more or less). Also, it is unlikely that your neophyte code will be clean. The risk is that search engines will not digest your creation. If this happens, your site will not generate the traffic you expect.
Alternatively, you can opt for hiring a web designer. To create a very simple site you will need at least $2000. The cost increases exponentially if you want an attractive design and to add other features such as a private area, an eCommerce or other additions.
The same results, or at least very similar results, can be achieved easily using WordPress, or a website builder program.
So, unless your business is already well established and able to absorb a significant amount of investment, I suggest you don't pursue this option.
Step 2 – Choose and Register Your Domain (Your Website Name)
A fundamental step in creating a website is to have a name or, as they say in computer jargon, a domain. The domain of your website will be something like this: yoursite.com. You can also use extensions such as .org, .net, .eu or others.
There are also extravagant extensions such as: .pizza, .agency and the like.  My advice is to stick to the classics of .com, .org, .net  unless you have a specific reason to choose otherwise.
As for the name, Google no longer attaches particular importance to the domain name.
It is, therefore, not necessary to use a domain that contains a keyword that you want to use. However, a name that is easy to remember and that helps the topic of the site to be understood is always recommended.
Where and How to Buy a Web Domain?
There are several sites where you can register your domain.
I always use Namecheap because I find its prices usually more competitive. However, NameCheap is only in English. If you prefer to use a site supporting other languages, a good alternative is GoDaddy.
Below is an explanation of how to search for a domain available on GoDaddy. All you do is type in the name of the domain you have chosen followed by the extension you prefer (.com, .org, etc.). In this case, I did a search for templatetester.com and, of course, the search says that it is no longer available.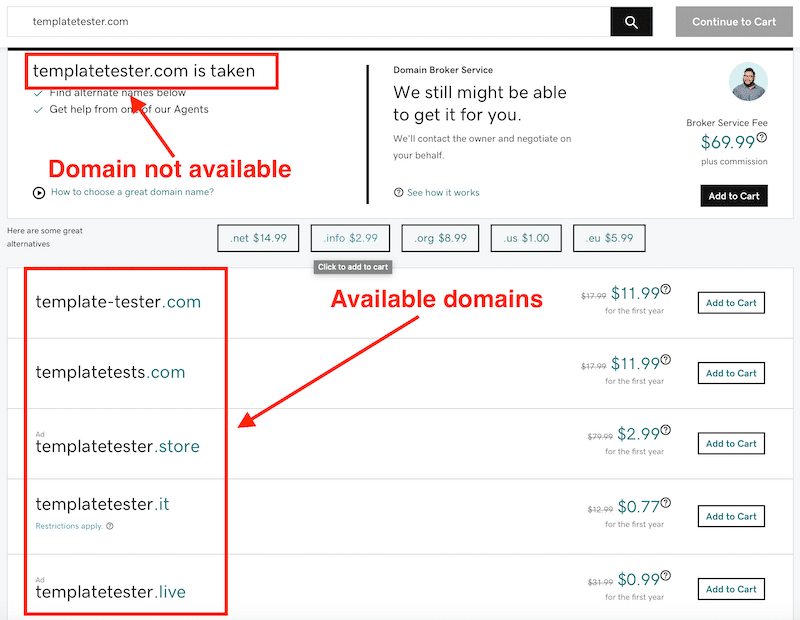 However, it is possible to purchase the same domain with other extensions, for example, templatetester.it. If the option you prefer isn't already taken, you can proceed with the purchase. Otherwise, repeat the search with other names until you find a domain that is still available.
As you can see, the cost of a domain is very reasonable. Prices range from just a couple dollars and up. There are some premium domains that can cost up to a few thousand Dollars, but in most cases the prices are very low.
How to Build a Website – Buy an SSL Certificate
You cannot effectively learn how to build a website without learning about SSL certificates. Buying an SSL certificate for your domain is optional, but not buying it means you're off to a bad start with your site.
The SSL (Security Sockets Layer) certificate is a protocol that protects communications on the internet. It protects sensitive user data such as credit card numbers, passwords, etc. Although the SSL certificate is very important especially for eCommerce sites, all sites should have one.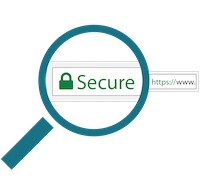 When a domain is protected by an SSL certificate, the address changes from http:// to https://. The additional "s" indicates the presence of the certificate.
If the certificate is not present, Google will consider your site dangerous and will tend to penalize it in search results. In addition, several browsers, such as Chrome, will tell users that the site is unsafe and many of them will choose not to use your site.
So, even though purchasing an SSL certificate is optional, not having it would be a huge mistake. That's why I recommend that you buy an SSL certificate which is usually provided at a very low price from the same site where you buy your domain.
If your budget is really limited and you want to save as much as possible, you can create a free SSL certificate on Let's Encrypt.
Keep in mind, however, that installing this free certificate on your site is anything but easy. You can try to venture into doing it on your own, but it's likely that you'll have to pay someone to do so. For this reason, take time to determine whether the free solution will really save you money.
Step 3 – Choose a Web Hosting Service
So far, you have chosen the platform on which to build your site, you have the domain and the SSL certificate that protects it. The next step is to choose a web hosting provider.
Web hosting is the web space where your site is hosted. It is the place where all the content, images and files of your site are stored and made accessible to the public. Without web hosting, your site cannot exist.
There are hundreds of web hosting services to choose from, but not all offer the same performance.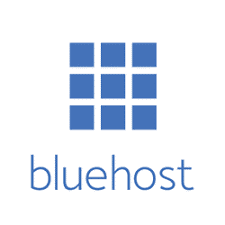 Bluehost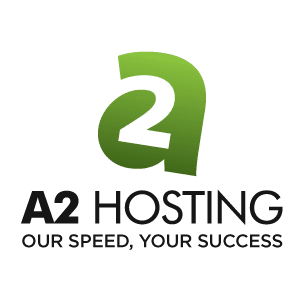 A2 Hosting
Namecheap
Features of a Good Web Hosting Provider
There are three things to which I pay close attention to when I have to choose the best hosting provider to run my sites.
Speed. The hosting service must ensure that pages on your site are loaded quickly. You will soon learn that a slow site is unlikely to succeed.
Reliability and Uptime. Choose a hosting service that guarantees you an uptime as close as possible to 100%. This value ensures that your site is always reachable by users and almost never goes offline. Some hosting services are not very reliable and have an uptime even below 80%. This is especially important when you are expecting your traffic to be substantial. If your users cannot enter the site, your business will suffer greatly.
Customer Support. There will be times when you will have technical problems, or your site will stop working. In these moments, you need web hosting support that acts immediately and possibly in real time. If the hosting can only be emailed and the response time is many hours or even days, this is a big  NO  for me.
Over the years I have used many hosting services and now I know that I can only count on a few of them.
My absolute favorite is WPEngine. Unfortunately, the price is not low and starts at $35 for a site. You have to consider, though, that each subscription gives you access to all StudioPress templates and the Genesis Framework which makes the price much more attractive. (I'll explain later why I always use Genesis for my sites.)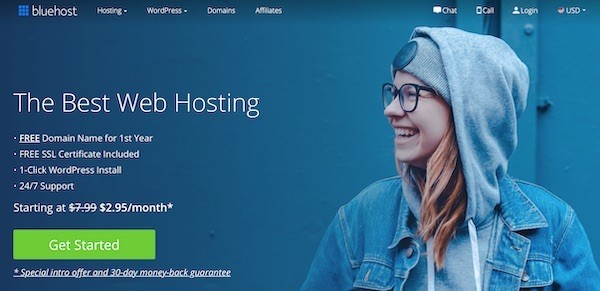 If you need to stay within a budget, but don't want to compromise quality, you can use Bluehost which is an excellent alternative. This is also a very reliable hosting service that performs well, and you can activate it starting at only $2.95 per month. It is a great starting point if you want to build your site at almost no cost.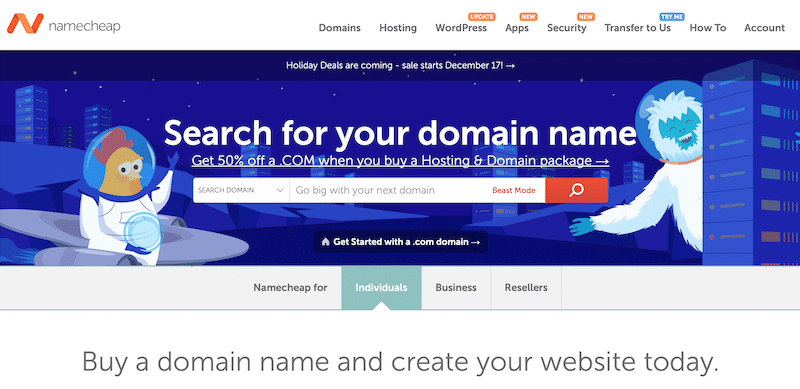 Other popular options that come at a reasonable price are GoDaddy and Namecheap.
Later, when your traffic is more consistent and your site is generating constant revenue, you can always decide to move to WPEngine and make the leap in quality.
Step 4 – Activate the Web Hosting Service
I am going to use Bluehost as my example as it will be the main choice of many readers. The same procedure now described is very similar for every web hosting provider.
1. Go to www.bluehost.com (or another web host of your choice)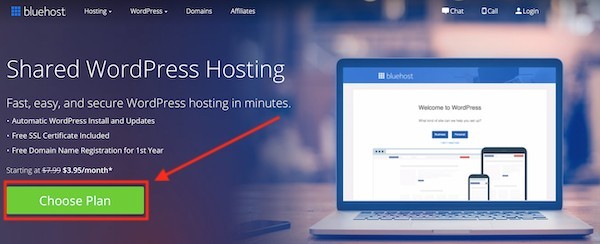 2. Choose your Plan
Click on "Choose Plan" and you will be redirected to the page where you will find the available subscriptions.
The options you have available are 3:
– Basic
– Plus
– Choice Plus
If you have a very tight budget choose the basic option. It's good for a single site that doesn't receive high volume traffic.
I usually choose the Choice Plus option because it is unlimited and good for when the site begins to grow in content and traffic. However, it all depends on your budget, and keep in mind, that you can always switch to a higher subscription at any time.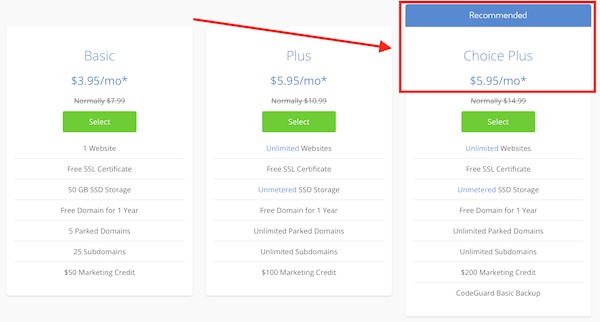 3. Enter the Domain of Your Site
In the "I have a Domain Name" box, enter the domain of your previously purchased website (see Step 2).
Alternatively, you can use the "New Domain" box to search for a name for your site that is still available. Bluehost offers you a free domain registration.
If you don't have a domain yet and don't want to search for it now, you can still leave this part blank and proceed to the next step.
4. Enter Your Account Information
Complete the form with all the information required to activate your account. A payment receipt will be sent to the email address you use on this screen.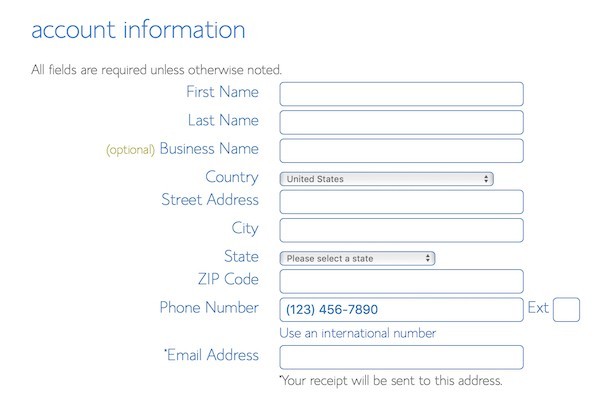 5. Check Your Subscription and Complete Purchase
You can choose the duration of the hosting service. The longer the subscription period, the lower the price will be. I usually tend to choose the two-year plan, but the decision is totally up to you.
Once the data is all correct, enter the payment information and proceed with the purchase. Remember that you have a 30-day money back guarantee. If for some reason Bluehost does not satisfy you, you can ask for a refund of what you paid, and you will not have lost anything.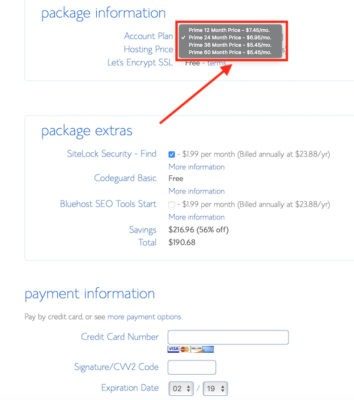 Step 5 – Install WordPress
Now begins the funnest part of your project, when you start to see your new site come to life.
Install WordPress from C-Panel
Knowing how to build a website is very important, as you can see. Now, once your hosting service is active, the first thing you need to do is install WP. The operation is very simple.
Log-in to your C-Panel account (the control panel connected to your hosting and provided to you when you activate a subscription with Bluehost, WPEngine, SiteGround or another service you have chosen).
Look for the WordPress icon and click on it.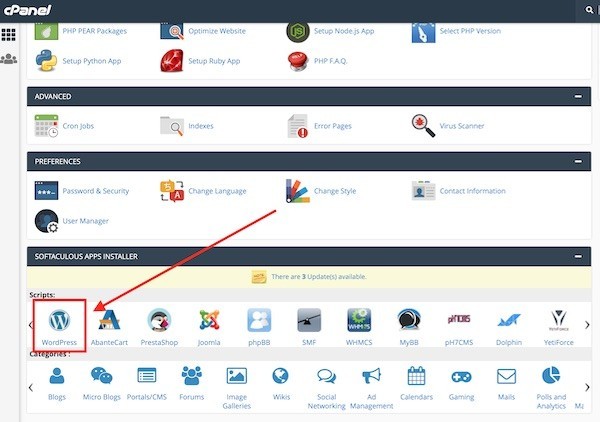 In the window that appears click on the button to start the installation

Select the version of WordPress to install (always choose the most recent) and the domain on which to install WP. In this example, you will see that I have used my domain templatetester.com.
Click on "install" and wait a few seconds until the installation is complete.


Now you have access to your site and you can start focusing on content and design.
Installing WordPress Manually
Installing WordPress manually is required when your chosen web hosting service does not support C-Panel.
Not many web hosting companies do not have C-Panels.  If the service you have chosen does not provide a C-Panel, it is probably a good idea to review your choice and change providers.
However, if you stick with your choice, and want to complicate your life a bit, you can read our guide on how to install WordPress manually.
Step 6 – Create Your Website
At this point, the technical part is behind you. Your site is accessible on the internet or, as they say in website jargon, your site is live!
It's time to make yourself known to the general public. You need to give attention to the design of your site to make the experience of your visitors pleasant and captivating.
To do this, choose a template, or design, for your website.
There are thousands of WordPress templates and many are totally free. Below is an example of a free WP template. So, if your budget is very tight, this is the option that will probably interest you the most.
A free WordPress template is a great place to start. Remember, that at any time you can change your WordPress theme and switch to a paid template. These are obviously  more powerful than the free templates and offer several additional features  that will come in handy over time.
Soon, I will share where you can find the best premium templates for WordPress. But, let's start with the free ones.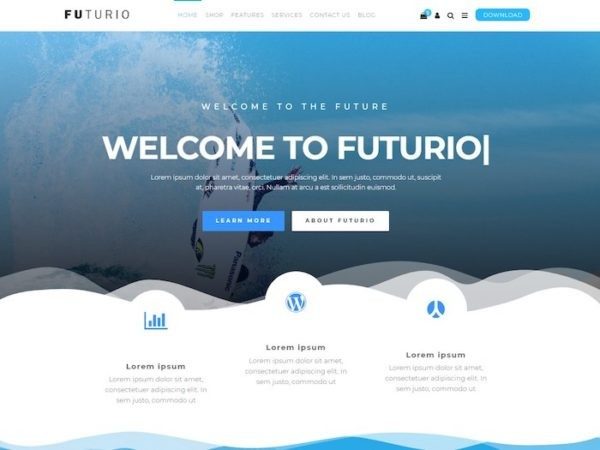 How To Find And Install a Theme For WP That You Like
#1 Enter the WordPress Dashboard
To enter your WP dashboard, just type this address: https://YourWebsite.com/wp-admin (of course replace YourWebsite with the name of your website!)
The WordPress dashboard looks like this.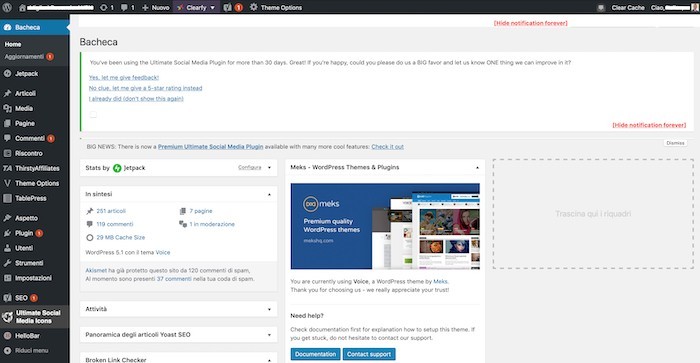 As you can see, the look is very clean and smart. The black bar on the left is where you can access all the functions to upload content, change the appearance of the site, manage features and more. The menu can be different depending on the plugins you decide to install as you go (we'll talk about plugins in a bit).
#2 Look for a Free Template for WordPress
To search for the various free templates available, click Appearance>Themes.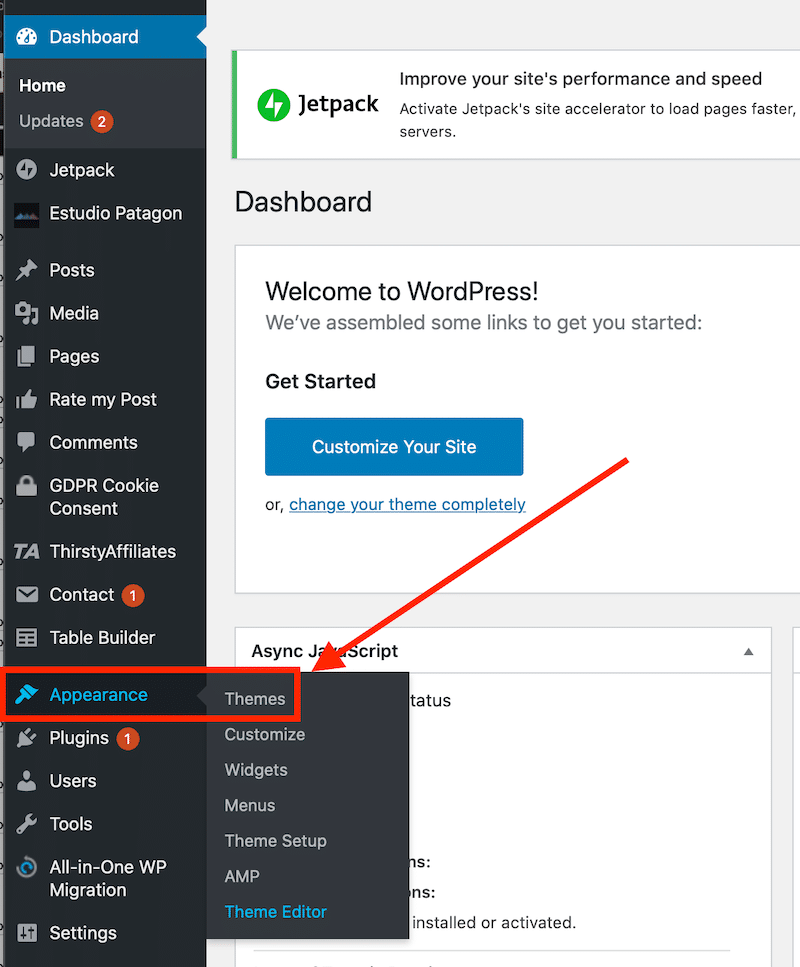 Click on "Add New" to access the full list of free WordPress templates.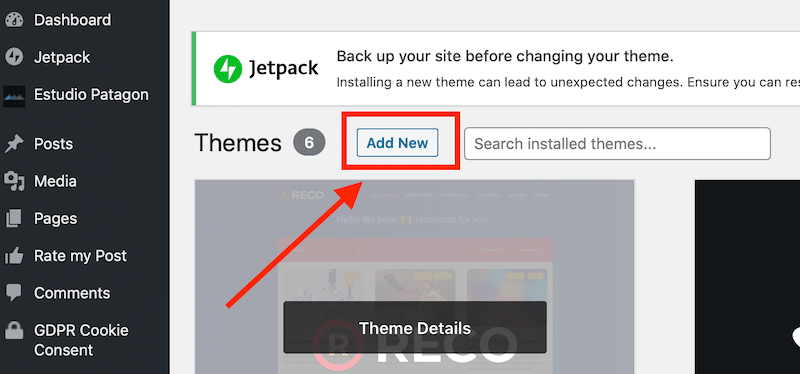 Now, you can start exploring the free WordPress themes available. You can also refine your search using the menu at the top. In particular, the "Feature Filter" menu is useful if you already have some features and functionality in mind that you need. Activating this filter will make your search much faster.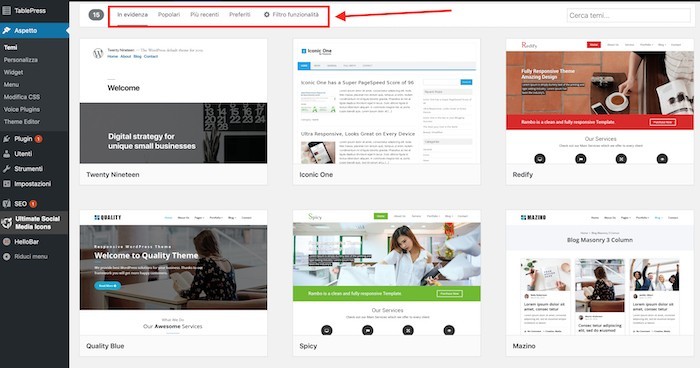 When you see a theme that gets your attention,  click the "Preview" button. This function shows you a typical site built with the selected template. The preview is useful to get an idea of what you can do with the chosen WP theme. If you are happy with the result,  click "Install" to upload the theme to WordPress.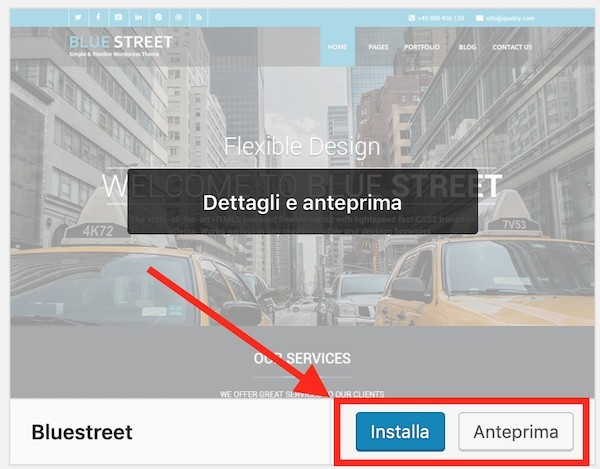 Once the installation is complete, all you do is activate the theme to implement it on your site. You are now ready to start adding your own content and customizing the look of your website.
Step 7 – Add Content to Your Website
Now that your theme is installed, you're ready to start creating your own content. In this section, I will show you how to upload pages and posts to WordPress and how to customize them.
Before I start, I want to share a few words about the  difference between a post and a page on WordPress.
WordPress pages are static, meaning that the date does not show, and they are not displayed as new content in your blog. Consider pages as those parts of your site that, once uploaded, do not need frequent updates. The most classic examples are the pages "About Us", "Legal Notes", "Privacy Policy" and so on.
Posts, on the other hand, are the content that you periodically upload to your site. They have a date, which you can make visible or not, and, therefore, needs to be updated over time if you want them to continue to appear in search results.
In addition, they are shown in chronological order in your blog, can receive comments from users, be shared on social networks and so on. Once your site is set up, posts are the ones you will use most frequently.
Adding and Customizing a Page
In the WordPress dashboard menu click Pages>Add New.
You will see a screen with commands very similar to those of a Microsoft Word document

Here you can add text, images, or other items you want to have on your page.
Once you're done preparing your content, click on "Preview" to see how your visitors will see the page when they visit your site. If you are satisfied with the result,  click "Publish"  and your page will be accessible to your visitors.

Add and Customize a WordPress Post
To create a post for your blog, go to  Posts>Add New. Now, you can start creating your own article just like you would on a Microsoft Word document. Add images, bold text, links, and more to create an eye-catching article.

Once the work is complete, go to Preview to check the result. If everything is in order and you don't need to change anything, click on "Publish" and your new post will be visible to everyone.
Unlike pages, your posts should be organized into categories. Categorize group articles that are similar or discuss the same topic. For example, some of the categories I have on TemplateTester.com are: Creating Websites, Web Hosting, Website Builders and so on.
Creating a category only takes a few seconds. On the WP dashboard go to Posts>Categories.
Assign a name to the category and a post slug (which is how the category will appear in the URL.) For example, I called my category "Website Builders" and the post slug is website-builders. Once the operation is finished, click on "Save" and your category is created.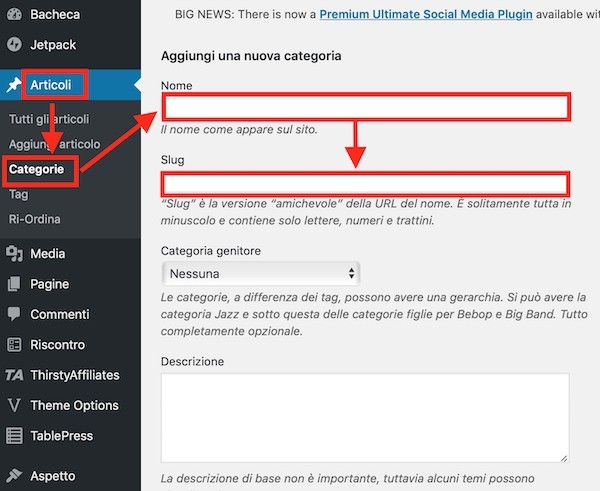 Each post can be assigned immediately to a category while you create it (if you already have the categories setup), or you can assign it later if you still need to create the category.
In any case, the category of a post can be changed at any time. To assign a category to your post you simply click the one you want from the categories list on the right sidebar.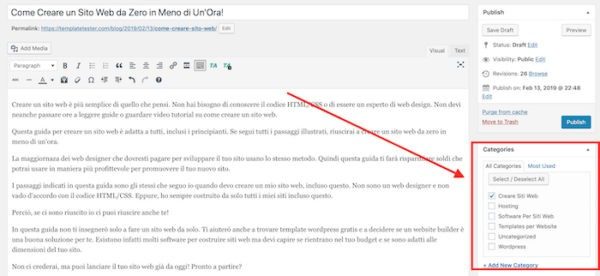 Images
Adding an image or media to your article or page takes just a few simple steps:
#1 Click on "Add Media"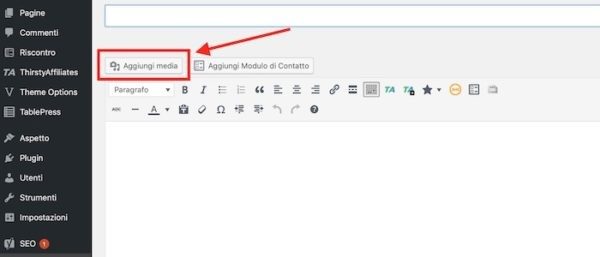 #2 Choose the Image to Upload
Now, you have two options. You can choose an image that you have previously uploaded to your database by clicking on the "Media Library" menu. Alternatively, you can upload an image directly from your computer using the "Upload File" menu.

Once you have selected or uploaded the image, insert it into the article or page by clicking on the "Insert into post" button.
Setting the Featured Image
In addition to the images inside your post, remember to upload the "Featured Image". This is the preview image your visitors will see when they visit your site.
To set it up, look at the right sidebar for the link "Set Featured Image" and then follow the same steps as above.

Setting the Navigation Menu
To make navigation easier for your users, you must set one or more menus for your site.
You may want to include several of the pages, or articles, you have created in your navigation menu. This is the correct procedure to follow:
Go to  Appearance>Menu.
Choose the page you want to add to the menu and  click "Add to Menu".
Select which menu you want the page to be added to. Save it, and the menu is set.
Follow the same procedure to add posts, categories, a custom link, or something else to the menu.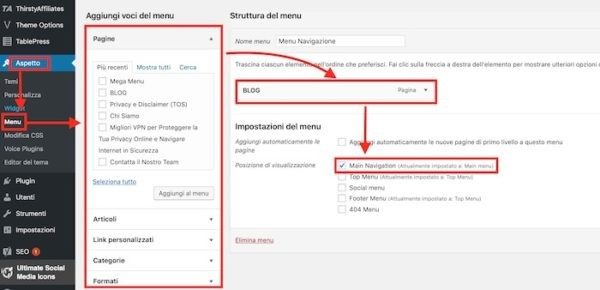 Step 8 – Customize the Look of Your WordPress Site
Set the Home Page
If you skip this step, WordPress will feature on the homepage a list of your most recent posts. This is generally not the best option as the home page should be the starting point from which your visitors will navigate through your site.
To this end, you must set up a welcome page as your home page that you have created for this purpose.
To set a static page as a homepage  go to Settings>Reading.
Check the  box "A Static Page"  and from the drop-down menu choose the page that you want to be displayed on the homepage. Save everything and you're done.

Set Site Title and Tagline
The  title of your website is very important  to help users immediately understand the topic of your site. It is also an important indicator for search engines and, therefore, can affect your ranking.
Ideally, you should include a keyword in the title of your website that you want to rank on search engines. For example, the title of this site is "How to Create a Website."
The  tagline is a short sentence that is added immediately after the title on each page. Again, use a phrase that is both useful to your visitors and search engines.
Here's how to set up both the title and the tagline:
Go to Settings>General. Type the title of your site and the motto in the appropriate boxes and save everything.

Set the Sidebar
In most WordPress templates you will be given the opportunity to have a sidebar. Usually this can be positioned to the right or left depending on your preferences.
One reason to use the sidebar is to facilitate navigation within the site. For example, you could include in the sidebar a search field, a list of the most popular posts, an advertising banner, or something else. All these elements are called Widgets.
To customize the appearance of the sidebar, go  to Appearance>Widgets. Select the item you want to add to the sidebar, select the area of the site where you want it to appear and click on "Add Widgets".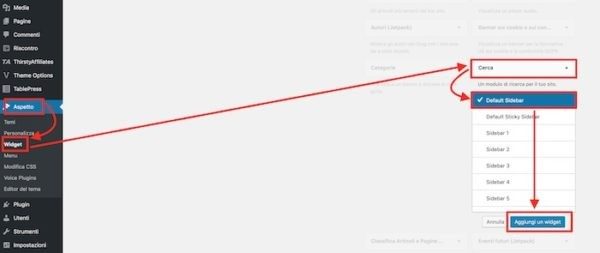 Step 9 – Improve Your WP Site by Adding Plugins
What is a Plugin?
Plugins are extensions that you can use to add functionalities to your  WordPress site  or improve its performance. There are literally thousands of them available and you can use them for an innumerable amount of functions.
With plugins, you can add popups, image galleries, contact templates, social media links, add eCommerce, monitor the site's performance and the list could go on forever.
Adding a plugin is very easy, but you must be careful.  Use only plugins that are strictly necessary  because an excess of them weighs down your site and decreases its performance.
How to Install a WordPress Plugin
In learning how to build a website, the procedure for adding a plugin is important; it is as follows:  go to Plugins>Add New. Search for a plugin you are interested in by using a keyword.
Once you have found the plugin  click on "Install Now".
At this point, the new plugin will be added to the list of installed plugins on your site and you are ready to start using it.

How to Build a Website from Scatch – Most Popular Plugins
Our guide on how to build a website wouldn't be complete without a mention of the best plugins that most webmaster use to optimize their websites. Below I have prepared a list of plugins that are loved by most webmasters.
YOAST SEO In my opinion, this is a plugin that cannot be missing on your site. Yoast SEO tells you what is necessary to improve on your site to make Google display your pages in search results. Especially if you don't have much knowledge of SEO, you'll find a lot of support with this must-have plugin. There are other plugins similar to Yoast SEO that work pretty well even though none of them is as popular as Yoast.
WordFence is one of the most used plugins to protect your site. Unfortunately, hackers are always ready to strike, and if you don't protect your data accurately, you may soon find yourself with some nasty surprises. There is a free version of this plugin that works excellently, while the premium version will give you total peace of mind.
ContactForm. This plugin is designed to create contact with your visitors. It allows you to create modules through which your users can send you messages or communications. You can use it on your "About Us" page, or wherever you need it on your site to collect your visitors' contacts.
Ahrefs. This is not really a plugin but an SEO tool. I added it to this list because I've been using Ahrefs for many years and I think it is an essential tool to grow your search traffic and dominate your niche.
We are sorry that this post was not useful for you!
Let us improve this post!
Tell us how we can improve this post?