What Is WP Engine?
WordPress Engine, better known as WPEngine, is a WordPress-only platform.
With its beginnings at the start of this decade, WP Engine does not have a long history in the world of hosting. However, it has quickly established itself as a capable and efficient player in the world of web hosting.
Obviously, when looking for a web host, there are an ample amount of choices to pick from in the general hosting and managed WordPress environment. As a result of self-hosted WordPress and website builders flourishing, it can be a real challenge to determine which host or website builder to use.
Yet, an important element to keep in mind is that although many of the popular hosting and web-building options provide services that simply aids WordPress, the noteworthy aspect of WPEngine is that it is specialized in WordPress.
Their approach is less about trying to fit WordPress into their world, but rather, fitting themselves and their customers into the world of WordPress. Let's explore how they accomplish this.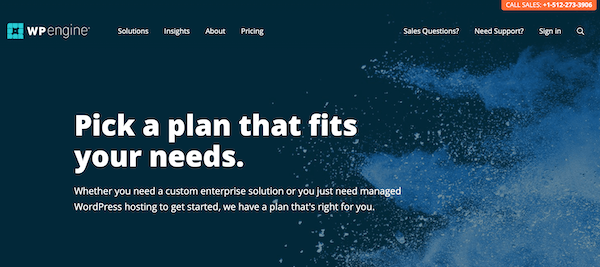 WPEngine Overview
Pros
of WP Engine
The security. It has advanced security features that protect your site and are only provided by WP Engine.
The quick load times. It's fast because WP Engine servers are designed especially for WordPress. Caching takes place on the server and their CDN (Content Delivery Network) is accessible.
It's dependable. It easily manages heavy traffic without your site slowing down.
The support. The WP Engine support staff is a group of qualified WordPress specialists that are available to help 24/7.
Cons
of WP Engine
WP Engine does not permit the installation of certain plugins on your WordPress site, either because they clash with or repeat WP Engine's functions or create a high server load. This includes many caching, backup, and related post plugins.
WP Engine does not provide domain registrations, only hosting services. Thus, it is necessary to register domain names through another company.
When contrasting other shared hosting platforms, WP Engine is usually more expensive.
What Does WP Engine Do Differently than Other Web Hosting Services
The hosting environment created by WP Engine has been deliberately created for installations and plug-ins for WordPress.
Consider this helpful aspect. Unlike with many web hosts, if you are creating a new website, there is no need to install WordPress.
The content management system is already preinstalled. The simple process to begin using WP Engine involves opening an introductory email and examining the necessary login requirements and then you're off to the races!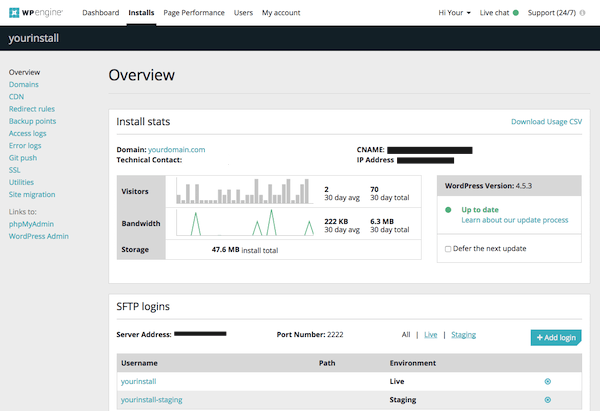 From the viewpoint of content creation, WP Engine allows for a clean and smooth creation of different pages, image galleries and posts.
WP Engine is adaptable and harmonizes with numerous WordPress plug-ins.
Yet, it should be noted that there is a narrow list of plug-ins that it does not work with. This, however, is not done without reason, but rather simply because some plug-ins are repetitive of WP Engine functions or they reduce the efficiency of WP Engine's performance.
Additionally, WP Engine does not allow an option for traditional web-hosting. As a result, Linux or Windows-based non-WordPress site and related apps cannot be used.
As a positive though, many aspects, such as daily site backups and plug-in updates are automated with WP Engine.
Another beneficial aspect is Evercache, WP Engine's proprietary system technology that merges caching and proxy servers making it highly scalable, giving your website quick load times.
Unfortunately, you cannot purchase a domain name from WP Engine which isn't convenient, but it certainly doesn't affect the quality of their services. There are simple instructions to guide you through adding your domain name to your site.
WPEngine Pricing
Perhaps you are wondering at this point, how much does this uncomplicated and straight-forward web-hosting climate cost? Well, let's talk WP Engine Plans and Pricing.
WP Engine makes available three WordPress hosting plans.
Each plan provides automatic daily backups and scanning for malware. Keep in mind that these are managed WordPress hosting plans that are Linux-based. If you prefer Windows-based hosting, you may find yourself disappointed or frustrated.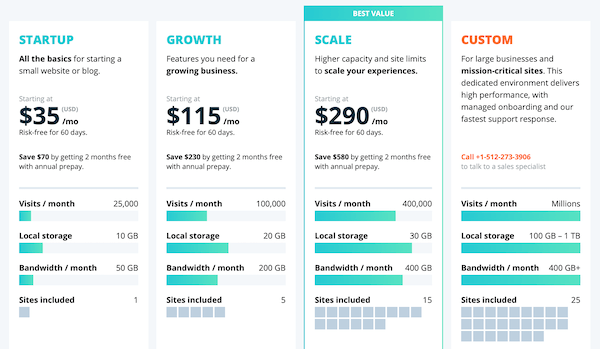 The plan with the most basic features is called the Startup plan. It has a cost of $35 per month, comes with one WordPress installation, allows 25,000 monthly visitors, 50GB of monthly data transfers, and 10GB of storage.
Next is the plan called Growth. The cost of this plan is $115 per month. Its benefits include five WordPress installations, allows for 100,000 visitors, 200GB of monthly data transfers, and 20GB of storage.
Lastly, is the plan called Scale. With a starting cost of $290 per month, it provides 15 WordPress installations, 400,000 visits, 400GB of monthly data transfers, and 30GB of storage.
Despite the WPEngine plan you choose, you can get two months off with annual prepay. This option will help you contain the overall price of the plan.
Also available is a high-quality Custom plan. It is principally for "large businesses and mission-critical sites," according to the description on the company's webpage. Using a Custom plan, you can have millions of visitors per month, 400GB of monthly data transfers, and up to 1TB of storage. It is necessary to call a WP Engine sales representative for exact pricing information.
This is not the cheapest web hosting solution. Nonetheless, WPEngine deliberately maneuvers their appearance to be seen as a WordPress host with leading features.
Each plan makes available a content delivery network (CDN) allowing for faster load times. They also include useful WPEngine staging environments in order to test site changes in a setting closed to the public and WP Engine's own LargeFS software which allows for the transferring and storing of large amounts of data.WP
Engine also provides an advantageous 60-day money-back guarantee. This is an excellent provision not found among other WordPress hosting options.
WP Engine Plans Include All StudioPress Themes
In addition to the features listed above, each WP Engine plan includes access to StudioPress themes. StudioPress is a suite of WordPress services that consists of the Genesis Framework and easy-to-use StudioPress premium themes.
Genesis is the most popular WordPress theme framework. It combines design, layouts, SEO, performance and support. And it allows brands to switch safely and easily between themes. Every theme is search engine optimized because of Genesis.
StudioPress themes are a collection of over 60 professionally designed, SEO-optimized, mobile-responsive themes.
WPEngine Support
Always an important topic is customer service. WP Engine does have a toll-free, 24/7 telephone support.
However, 24/7 telephone support is not made available to customers subscribing to the Startup plan. To make use of this provision you must be a Professional subscriber or more.
Personal subscribers do have access to a customer support option with WP Engine, though. There is a 24/7 live chat available for their convenience. Clearly, this could be challenging if you want to talk on the phone to an actual human being to hash out your problem with.
Nonetheless, the chat feature allows for clear, easy to read solutions, without you ever needing someone to repeat what they have said.
WPEngine Security
Closely connected to the topic of WPEngine Support is that WP Engine also provides numerous effective and functional security options.
The WordPress core is automatically kept updated with the latest version. WP Engine performs exhaustive tests on any and all significant updates to the core prior to releasing the upgrade to customers.
Also provided is a proprietary intrusion detection and prevention system that prevents all DDoS attacks, brute force attacks, JavaScript/SQL-injection attacks and similar intrusions and invasions of the system.
Additionally, they have partnered with third-party security firms that regularly conduct reviews of the code and audit the security measures.
Security is prioritized and guaranteed. Consequently, if your security is breached, WP Engine is committed to fixing it without cost to you.
Do We Recommend WP Engine?
If you have the budget, we definitely recommend WPEngine.
WP Engine doesn't always receive the highest ratings when it's reviewed, but mostly because its cost is greater than other hosting options like Bluehost or GoDaddy.
It's good to remember, though, that you often get what you pay for.
WP Engine is known for its software innovation as well as its remarkable customer support. This convenient hosting is secure and has fast load times. It's great for beginners in addition to long-time developers.
Whether or not the cons outweigh the pros will without a doubt be determined by the specific needs of you and your website. For a certainty, WP Engine makes a strong case for being an excellent WordPress site host. You'll have to decide if it's the best platform for your website.
Related Posts
We are sorry that this post was not useful for you!
Let us improve this post!
Tell us how we can improve this post?