A2Hosting is one of the most popular and widespread hosting providers in the world, which is why we decided to review it and see what it has to offer.
A2 Hosting has been around for nearly two decades now, which makes it one of the oldest and most popular hosting services around. It is still very popular today, and its servers are among the fastest we have seen.
With choosing the best hosting being a crucial part of running your own website, we have decided to take a deeper look into what A2 Hosting has to offer, and see if its actual features can truly live up to its name.
So, if you are considering this provider as a hosting service of choice for building or migrating your website, stick around, and you will hopefully have your answer by the end of this review.
We have already mentioned that its speed is one of its strongest features, so let's try to see why, and also how do the other features compare.


1. Speeds
We know that insisting on the service's speeds may seem like an over-exaggeration, but there is a good reason for it. This will be a recurring theme when it comes to this hosting, and if you visit its homepage, you will quickly learn that the service itself constantly brings it up.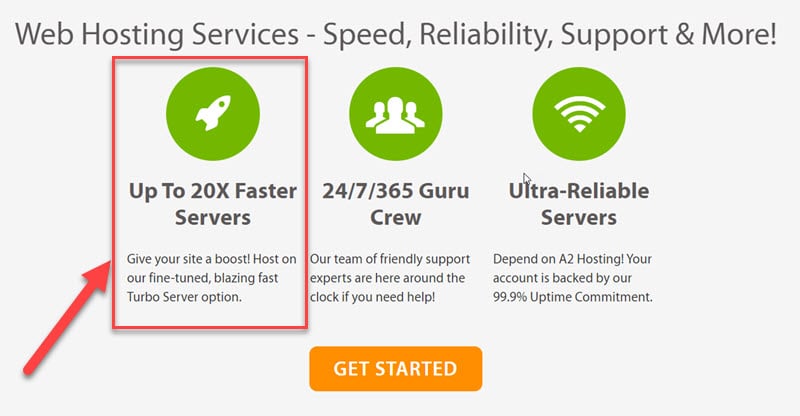 It stresses that it can make your site 'screaming fast,' and it even named its plans in speed-related terms, such as Swift and Turbo.
Now, calling a hosting 'the fastest' in a highly competitive market where speed is of the essence is a serious claim, but also one that A2 Hosting can justify.
Its speeds have been moving from 278ms towards 420ms over the last 12 months. But, for the most part, they remained at around 280ms, which is definitely quite fast.
In other words, this is definitely a plus for A2 Hosting.
2. Uptime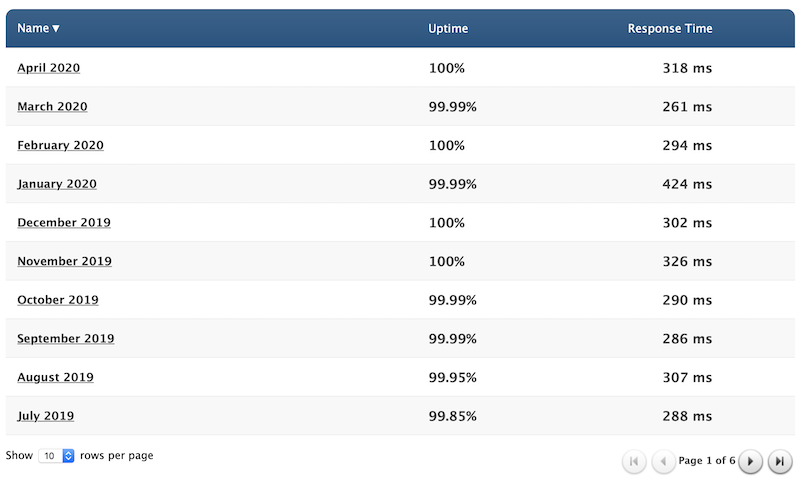 Uptime is probably the second-most important aspect of a hosting provider, as you need your website to be available to your own visitors and customers at all times. Unfortunately, A2 Hosting does not have a perfect score here, but it is also not that bad, either.
Usually, website owners want a hosting that has uptime between 99.95% and 100%, and for the most part, A2 Hosting fits the bill perfectly. It never went below 99.99% in the past six months. However, in August 2019, it was at 99.95%, and in the two months before that, it was at 99.70% (June) and 99.85 (July), which is not that great.
Even so, A2 Hosting was pretty good in months after that, as mentioned, and its yearly average is 99.93%, which is about the industry standard, even though not exceptional.
3. Customer support
Customer support is yet another highly important factor when it comes to a hosting provider, as you need to know that there are people you can count on in case of issues.
Whenever something happens and you yourself don't know how to fix — which will happen sooner or later. you need to have someone who can help and do so quickly and efficiently.

A lot of services do not realize this, and we are glad to say that A2 Hosting is not one of them. The hosting provider has hundreds of articles inside its knowledge base. It will help you discover a solution to any issue if you feel like exploring and doing things on your own.
Alternatively, if you would rather speak to one of their operators, you can easily contact them via phone, chat, or a ticket-based system. Now, during our tests, we contacted the support via live chat, and they did take about 5 minutes to respond. But from there on, everything else progressed rather quickly and the operator was very friendly, helpful and detailed with their response.
All in all, we consider A2 Hosting's customer support excellent, despite a slight delay in responding.
4. Plans and Prices
Another important thing that you wish to consider when choosing a hosting provider is pricing. This comes as no surprise, as starting a business website means that you need to try and find the best available deal in order not to have to pay too much before your business even launches.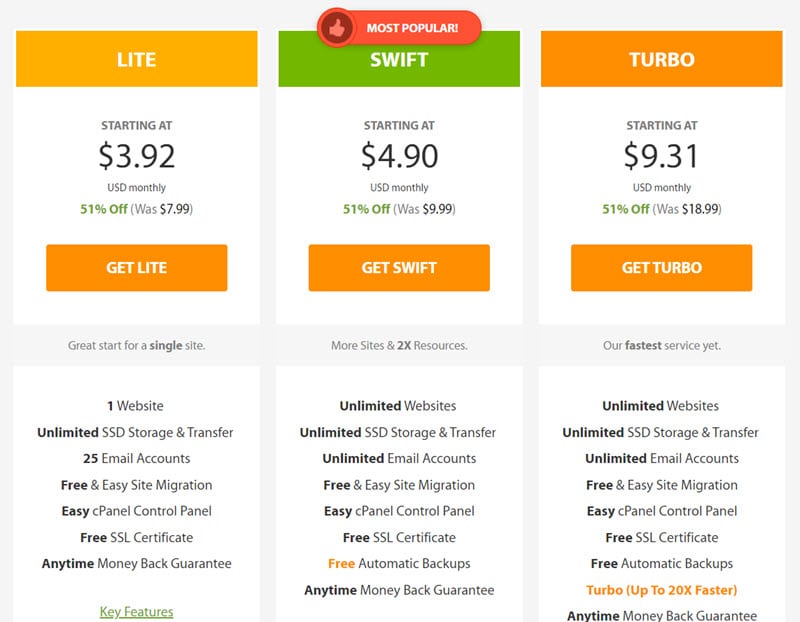 When it comes to A2 Hosting, we were pretty satisfied with the offered plans. It has three plans for shared hosting, which are as follows:
Lite plan — $3.92 per month, with support for one website, five databases, a free SSL, cPanel, and unlimited storage and bandwidth
Swift plan — $4.90 per month, with one site migration, and unlimited sites, databases, bandwidth, storage, SSL certificate, and cPanel
Turbo plan — $9.31 per month, and it includes everything offered by the previous plan. Plus the A2 Site Accelerator, and speeds that are 20 times faster
5. Renewal rates
While A2 Hosting is looking pretty great so far, we should note that there are some areas where it is not that good, and renewal rates are one such area. As we have seen, the prices of the plans are pretty good. But if you choose to go for a long-term plan, there is a slight price break when it comes to renewing the plans.
Basically, if you choose to take a three-year plan instead of the monthly one, you will have a much cheaper price per each month of the three-year period. The service will also include special introductory pricing for new customers, where the total price will pretty much get cut in half.
But, when the initial term expires, you are back to the regular pricing, which will be twice as much as what you had paid initially. This is not a unique issue, and many web hosting services try to attract users through similar price tricks.
They count on you being satisfied with the service and what it has to offer, and not wanting to go through the trouble of migrating, so they feel confident that you will simply pay a higher price.
However, even if you decide to migrate your site before the price increase kicks in, there is a hidden condition that says that you have to submit a written cancellation request at least 15 days before the Renewal Term through the customer portal, or by sending them an email. If you fail to notice the condition and miss this term, you will have to pay the next renewal plan and you won't be able to get any refund.
6. Money-back guarantee
While we are at the topic of subscription and payments, one thing that we did like about the hosting is its money-back guarantee.
It is standard practice — if you experience any issues that you may consider a deal-breaker within the first 30 days from the moment of purchase, you can request and receive a full refund. However, over the last few years, A2 Hosting introduced a few changes that are actually beneficial for the users.
The service now offers "anytime" money-back guarantee, meaning that you can now get a refund even after you end up being dissatisfied after as long a period as an entire year.
Basically, you can request it at any time, and you will receive a prorated amount back for the remaining time. So, if you take a 3-year plan, and you start getting dissatisfied with the service after 1 year, you will get the money for the remaining 2 years back.
Of course, there are a few things to note, such as the fact that any refund after the first 120 days will be issued via PayPal. Also, the refund only includes the plan itself. Anything else that you pay, such as setup fees, migration fees, domain registration, and alike — remain nonrefundable.
Even so, this is a unique and customer-friendly approach that gives A2 Hosting a big plus.
7. Limited cheaper plans
Another thing that we did not like regarding A2 Hosting is what its cheap plans have to offer. We have already gone through prices earlier, and we have seen that cheaper plans are quite true to the name, as you can get the Lite plan for only $3.92 per month. It is not THE lowest we have seen, but it is still pretty cheap.
However, the reason for this is that you don't really get that much in return, at least when compared to some of the competitors. As mentioned briefly above, the Lite plan will only get you a single website.
You will get unlimited storage for it, that much is true, as well as a free SSL, a site migration, and the mentioned 'Anytime' money-back guarantee.
But, you do not get a lot of the perks that are making A2 a good choice in the first place, such as the 20x speed of the Turbo plan. Similar problems can be seen when it comes to their website builder plan, where the cheapest option is $4 per month, but it only gives you a single page, which is nowhere near enough to create an actual website. In other words, if you were hoping to get the cheapest A2 Hosting plan, you should be aware of the limitations.
9. Free security feature
The internet is far from being safe these days, which is something that people are getting more and more aware of. This is why they wish to interact with safe websites, which makes it your duty to provide them with one, and your hosting provider's duty is to give you the tools to do it.
A2 does an excellent job here, as its servers are protected by something called HackScan — a 24/7 monitoring service that constantly scans for malware and other types of traffic that could damage the servers or individual websites.
As it is much better to prevent the hackers than to try to clean up the mess that they make, A2 Hosting seems determined not to allow them to breach its defenses in the first place, which ultimately serves you, the user, and your customers and visitors, as well.
8. Green Web Hosting
Another thing that we did like, is the fact that A2 is quite environmentally-friendly, and feels obligated to help protect the world from global warming. The company's hometown of Ann Arbor, Michigan, has come to be known as Tree Town, as they have around 150 parks and 50,000 trees in total.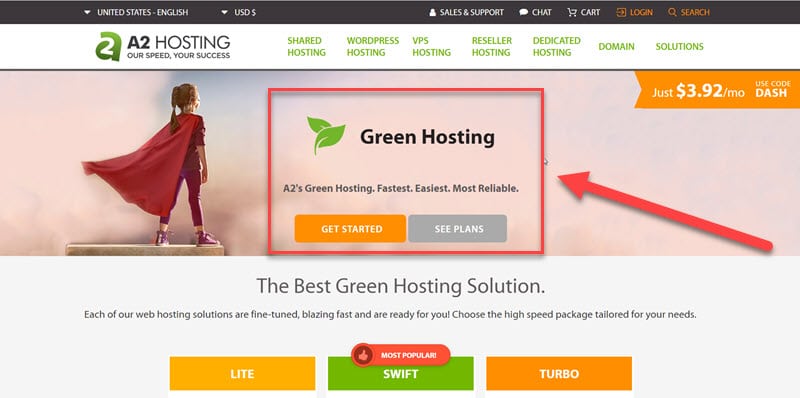 The company has also partnered with Carbonfund.org, in order to support renewable energies and protect the world through reforestation. On top of that, they have a green hosting initiative called FutureServe, which is to help offset emissions from the firm's own servers.
So, if you are interested in helping preserve the environment, giving your money to A2 Hosting is not a bad way to go.
Conclusion
In the end, would we recommend A2 Hosting?
Definitely yes.
The service has legendary speeds, it is eco-friendly, relatively cheap, and has numerous other advantages that make it an excellent choice for anyone looking to launch their own website.
With that said, there are a few issues that we already mentioned, such as low price when you initially purchase its plans, which then returns to its full size in renewal time.
This, alongside the 15-day cancellation request requirement, could be a bit misleading, so keep an eye on that. Also, the cheap plans are quite limited, but that will depend on your needs and requirements. But, the Anytime money-back guarantee is a major plus that almost makes up for the shady renewal price practices, so in the end, the decision is up to you.
Related Posts
We are sorry that this post was not useful for you!
Let us improve this post!
Tell us how we can improve this post?