Bluehost is a very popular hosting provider around the world, but that doesn't mean that it is necessarily right for everyone. If you have purchased one of its plans, only to discover that it does not offer what you need, you can always just cancel your Bluehost subscription. On the other hand, if you are considering to try Bluehost out and you don't want to be locked into anything, — do not worry, we will show you exactly how to cancel Bluehost, and even get your money back if you cancel within the first 30 days.
The first thing to note is that there are two ways to cancel Bluehost account;
you can do it right now, and hopefully still get your money back
or you can simply wait for your subscription to end.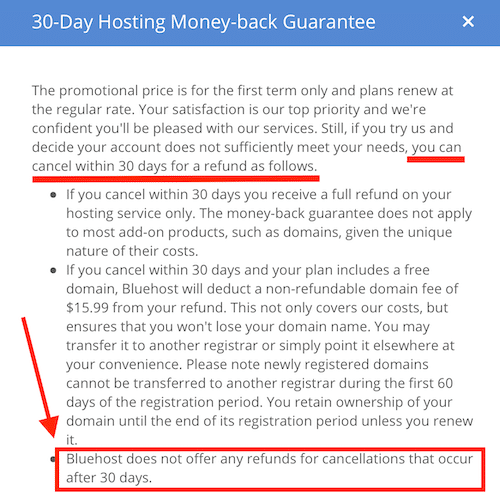 Bluehost Alternatives
| | | |
| --- | --- | --- |
| | | |
| | | |
| | | |
| | | |
How to Cancel Bluehost Right Now?
In order to cancel your Bluehost hosting account you have two options;
Contact Bluehost through live-chat (now is it possible!!)
contact the service via phone and request it with the operator
You may find some tutorial suggesting to submit a ticket to Bluehost. However, this is not the case since the ticket system cannot be used to cancel your Bluehost account.
However, before you ask for cancellation, you need to take a few steps;
Ensure that you know your main password for Bluehost, and especially its last four characters.
Make sure that the email address that you have listed in the Profile section of your account is the one that you currently use.
If you can't remember your password, you can always set up a new one by clicking on Forgot Password, and then use that for canceling your subscription.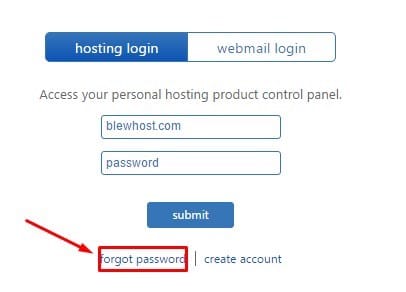 Those were the two main requirements for the cancellation of your account.
However, you should also make sure that you won't lose any of your data in the process, which is why Bluehost itself suggests taking the necessary precautions, including:
Ensuring that you have the necessary backups of your data (files, emails, databases), as all information associated with your account will be deleted.
Ensuring that you understand that DNS Zone changes will not be available anymore. To receive these services, you will have to renew your hosting or point your name servers to a different provider if you have one.
Ensuring that you are aware that all of your websites associated with your Bluehost account will be deleted.
If all of this is in order, you can proceed by contacting Bluehost through the live-chat or by calling 888-401-4678, which is the phone number of the Bluehost customer service and requesting that your account is canceled.
If you happen to do so within the first 30 days from the moment of purchase of your subscription, you can also request a refund by credit card or PayPal.
How to Cancel Bluehost Account at the End of the Term
As mentioned before, there is another way to cancel your Bluehost subscription, only this one is a bit more passive, and you will not be able to receive your money back if you use this method.
It involves not doing anything except for waiting for your current subscription to run out.
However, there is one requirement that you need to keep in mind, and that is canceling the Bluehost renewal.
This is necessary because, if you forget to do it, Bluehost will automatically withdraw money from your credit card or PayPal wallet in order to extend your subscription.
The amount that it will withdraw will be equal to that you originally paid for your subscription, and you will get the same term once again.
However, the 30-day money-back guarantee doesn't apply to renewals.
This is why you must ensure that you have disabled this option, which is set to be automatic by default.
How to Cancel Bluehost Renewal?
As you probably know, Bluehost offers two different account management interface options.
There is the original one, known as the Legacy Control Panel, and the Rock Control Panel, which is an updated version.
The Rock model is simplified and much easier to use, and while the process of canceling renewal is pretty similar, there are slight differences that are still worth mentioning to avoid confusion.
Cancel Bluehost Renewal through Legacy Control Panel
So, if you wish to learn how to cancel Bluehost renewal and you are a Legacy Control Panel user, here is what you need to do:
Log into your Bluehost Control Panel
Locate a tab called Account, and click on it
You will see a sub-tab named Renew
Enter the tab, and find a button that says Do Not Renew.
Select the button, click Continue, and you are done.
Cancel Bluehost Renewal through Rock Control Panel
If you are a Rock Control Panel user and you want to know how to cancel Bluehost renewal, you need to do this:
Log into your Bluehost Control Panel
Locate the Account icon in the right corner of your screen
A drop-down menu will appear, and within, you will see an option called Products
Click this option and find the Renew button.
Click the Renew button, and then choose the option Do Not Renew.
Choose a reason for your decision, or ignore this step
Click continue, and that is it.
After this, all you need to do is wait for your current subscription to reach its expiration date, and your account will be canceled.
Once again, remember to take care of your files, emails, and databases before this happens, as everything will be deleted alongside your website and other aspects tied to your account, and you will not be able to retrieve any of it.
Final Thoughts on How to Cancel Bluehost
That is all there is to it, and by now, your account is either already canceled, or your subscription renewal option is disabled, and your Bluehost account is on its way to termination. As you can see, the process is rather short and simple, and you can complete it within minutes.
You would have to wait for your refund (if you have a right to it), especially if you have paid your Bluehost account via credit card, and there could be complications along the way if you used this payment method.
However, the chances are that your money will be returned within a few days or within 24 hours if you used PayPal.
After that, you may want to choose a different hosting provider to subscribe to this money or use it in some other way.
Related Posts
We are sorry that this post was not useful for you!
Let us improve this post!
Tell us how we can improve this post?