One sure thing you need to succeed with e-commerce business is to choose the right e-commerce software. 3dcart is one of the many option you have.
But you're probably wondering:
"What is 3dcart?"
"Is it the right e-commerce platform for my business?"
Well today I'm going to make it easy for you. I will give you an overview of 3dcart's pros and cons and the main features that comes with it.
Pros
Extensive customization and flexibility
Mobile-responsive themes
Dozens of built-in features
100+ payment processors
Cons
Slight learning curve
Customer phone line has mixed reviews
Some themes are dated
Starting an online store may be easier than starting a physical one. Even then, any kind of business requires a great deal of hard work not just to start, but to manage and eventually expand.
Along the way, store owners must make countless decisions, big and small. Arguably the most important choice — aside from "starting or not starting" and "continuing or giving up" — is which software they use for their website.
Generic website builders proliferate on the internet, but wannabe store owners should invest in one specifically designed for creating shopping sites.
Even then, eCommerce platforms may be vastly different from each other.
Available features, ease of use, flexibility, and pricing tiers are just a few factors that vary between software suites. The distinctions matter because they determine how much once can do with their online store, as well as how much they can grow.
For a choice as important as this, the final decision should be an informed one. This brings us to our latest eCommerce platform review, focusing on genuine industry veteran 3dcart. In this deep dive, we will assess those four aforementioned factors, as well as several others that can make or break an eCommerce platform's value.
What is 3dcart?
3dcart is one of the longest-running platforms in the eCommerce scene. It launched in 2000 and has outlasted many of its competitors, thanks in part to not being stuck in the year 2000.
The development team has kept a close watch over technological advancements and e-shopping trends and regularly updates their software in response.
That commitment to progress is why the software still feels so fresh two decades on.
The result of this dynamic, ongoing development is a solution that is truly all-in-one. 3dcart engineers and programmers have fine-tuned the oldest features and created brand-new ones to meet the needs of merchants in these modern times.
Dozens of high-quality tools come built-in with the software. Even more features are available as integrations from their App Store, compiled through hundreds of partnerships with developers across the eCommerce industry.
Moreover, the site editor itself is highly flexible.
You can select one of 3dcart's professionally designed, ready-made themes and keep it like that. If you want, though, you can alter just about every aspect. This feature and the massive toolbox combine to give 3dcart users an amazing amount of freedom.
Anyone can build a custom store that meets their vision
Naturally, having a lot to use means having a lot to learn.
Getting accustomed to the 3dcart software can be tricky for beginners.
Figuring out how to implement all these features can be tougher still.
On the plus side, the company strives to make their platform as user-friendly as possible. They also provide live customer assistance and plenty of instructional, informative content. Besides, needing to learn how to use many tools is much better than having access to fewer features.
3dcart Features
Inventory Management
3dcart's software includes plenty of systems to help store owners stay on top of their inventory.
Tracking features give merchants and customers alike the means to see the status of an order. Synchronicity tools connect multiple points-of-sale to the same supply, automatically updating all of them with accurate information.
Out-of-stock settings can prove especially useful for preventing or mitigating awkward situations. Users can elect to hide pages for products until they get more supplies. Alternatively, they can convert purchases into waiting list orders and send updates to customers.
The platform removes restrictions on the number of product pages and categories a website can have.
Store owners have greater freedom to organize their items as they please, and analytics software can assist them in creating an intuitive, streamlined layout.
Free Web Hosting
Online shopping requires sharing sensitive data with a merchant, including credit card information and mailing addresses.
Every 3dcart website receives Level 1 PCI Compliant secure hosting. Customer data receives the same amount of encryption and defense as banking websites.
In addition to protecting customers from identity theft, 3dcart also protects websites from anything that can make them go down.
The company guarantees 99.94% uptime, plus daily back-ups just in case. They even offer defenses against DDoS attacks courtesy of Cloudflare.
SEO Suite
To help business owners boost their rankings on search results pages, 3dcart offers plenty of neat SEO features as part of any pricing plan.
One tool is a blogging platform that integrates with the site itself — no need for a WordPress account or anything similar. Another is the ability to customize webpage metadata, including titles, descriptions, URLs, image alt text, and more.
Other useful tools include social media buttons, canonical URLs, 301 redirects, and various features for increasing page speeds and streamlining site layouts.
Additionally, the Google Analytics integration can report page rankings and recommend high-traffic keywords to target.
Search engine algorithms regularly change their standards. 3dcart keeps track of these adjustments and regularly updates their tools. This practice enables store owners to stay on top while competitors slip in the rankings.
Payment Gateways
Much of what I say about 3dcart is entirely subjective, and people are free to disagree with my opinions. Some aspects of the software are purely objective. For example, the platform connects with more payment gateways than any other of its kind.
The number of available processors that 3dcart websites can use exceeds 100.
Their selection features the most popular ones, such as:
PayPal
Square
Stripe
Apple Pay
Google Pay
more…
Some platforms do not even have that much. This one also includes processors that are exclusive to certain countries and currencies, giving small stores the ability to cultivate a global audience.
3dcart Customer Service
Any problems that affect eCommerce websites must be resolved as soon as possible.
3dcart provides live customer assistance with in-house software experts, both over the phone and on the web. Online reviews of service calls are rather mixed, but generally lean toward positive.
Notably, representatives are available 24/7/365, as opposed to the usual Monday-to-Friday, 9 AM-5 PM schedule.
After all, crises can occur at night, on weekends, and during holidays.
While we are on the subject, access to all these features means nothing if people do not know how to use them. 3dcart customers can learn more through several distinct information resources that the company makes available to them.
3dcart publishes several well-written eCommerce-related articles on their website's blog.
A separate series of content pieces, collectively called eCommerce University, explains many concepts of eCommerce in ways that even beginners can understand.
The platform also has its own dedicated Knowledge-base site, full of instructions on using and optimizing every aspect of the software.
3dcart Templates
One potential stumbling point for some users is 3dcart's selection of templates.
The website currently offers over 100 options, and unfortunately, some have a rather dated appearance.
With that said, 3dcart's graphic designers continue to add more themes with professional styles that fit the present day. They also seem to be refurbishing older ones, giving them a much-needed modern polish.
More importantly, almost every single theme is built with the Core Templating Engine, a custom framework with many benefits.
It provides extensive flexibility, so anyone unsatisfied with a theme's default settings can edit them as much as they please. It optimizes website code for faster load times.
On top of that, it is made with responsive design in mind, allowing users to create mobile-friendly versions of their stores for smartphone shoppers.
Another benefit to using 3dcart is that they offer more than 50 themes at no charge.
This collection of free templates exceeds the total count of many other eCommerce platforms' theme stores. In terms of this one aspect alone, 3dcart may be the most economical option around.
3dcart Pricing — Essential Site-Building Features at Economical Costs
Anyone looking at all the features mentioned above may be concerned about how much the software costs.
This sentiment is understandable.
After all, the minds of business owners rarely stray far from financial concerns, and plenty of eCommerce platforms out there can be quite expensive.
You may be surprised to learn, then, that 3dcart's plans are unusually economical compared to many of their competitors.
The lowest pricing tier gives the smallest business operations access to most of the essentials they need to get started, plus other useful goodies.
Naturally, the offerings only get better for plans with higher pricing. What matters is that 3dcart recognizes the value of giving every business a chance to succeed.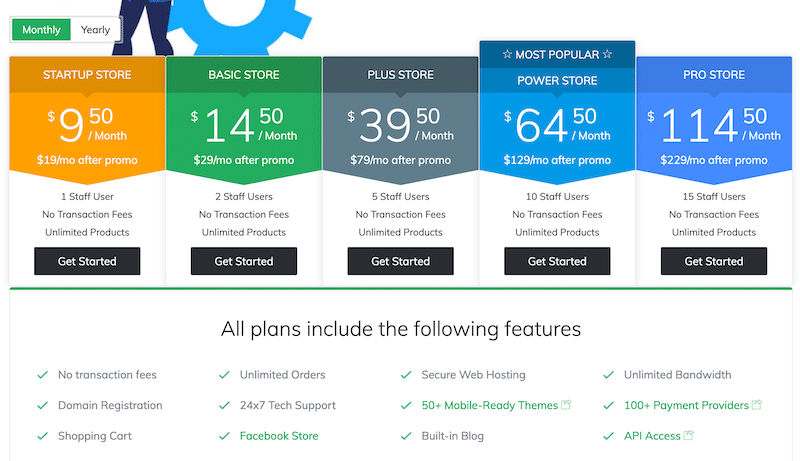 3dcart Website Plans
As part of 3dcart's commitment to helping their merchants thrive online, every single store receives the following, regardless of plan and at no extra cost:
Secure web hosting
No transaction fees
Unlimited products and categories
Unlimited bandwidth
API Access
FTP Access
Startup Store
$19 per month  
$50,000 yearly sales limit
1 staff use
2 email accounts
Mobile store
100+ payment processors
Analytics software
Inventory management suit
Real-time shipping and sales tax calculation
Bulk discount options
Multiple sales channels
Online customer support from 3dcart
Advanced product options
Basic Store
$29 per month       
$100,000 yearly sales limit     
2 staff users      
5 email accounts      
Customer Relationship Manager (CRM) module      
Ability to create affiliate program      
Additional sales channels for eBay and Amazon      
Module for receiving customer feedback      
Expansion of 3dcart customer support to phone service
Plus Store
$79 per month        
$250,000 yearly sales limit        
5 staff users       
10 email accounts       
Ability to segment customers into group        
FedEx Returns and Hold-at-Location options       
Q&A sections for product pages       
Ability to create loyalty awards program       
Abandoned cart saver feature       
Gift registry       
Additional sales channel features for Facebook Dynamic Ads and Facebook Pixel
Power Store
$129 per month       
$500,000 yearly sales limit        
10 staff users       
10 email account        
Ability to provide "autoship" recurrent purchase service for customers       
Waiting list feature for out-of-stock products
Pro Store
$229 per mont       
$1,000,000 yearly sales limi        
15 staff user        
30 email account       
Automation software, including automated email       
One-on-one client onboarding with 3dcart representative       
Sales Rep Management Modul        
Pre-order system       
Ability to inform customers of shipment deliveries
Final Thoughts on 3dcart
Do I recommend 3dcart?
Yes!!
Many eCommerce platforms are promoted as all-inclusive solutions, yet reserve some of the most essential features as add-ons on an app store. 3dcart, on the other hand, fits the definition of all-in-one.
This ecommerce software gives businesses of any size more for their money than almost all platforms, at minimum.
The quantity of features and plug-ins is staggering, and it is matched by their quality. The wide range of bundled tools can assist with design customization, layouts, SEO, security, multichannel sales, order management, product management, marketing, and so much more. Even more features can be found on their app store.
The ease of use may suffer a little as a result of having so much to learn.
Even then, the company acknowledges this issue and mitigates it with live support, information resources, and software that is streamlined without sacrificing utility. What users lose in simplicity, they more than make up with flexibility.
Finally, everything that 3dcart offers comes at lower prices than most of their competitors.
Anyone interested in testing the platform before making any commitments can build their own shopping site with a 15-day free trial.
My final word on this subject is that we recommend giving 3dcart a try.
20,000 people currently enjoy the benefits of the platform. With everything that it has to offer, you are likely to find great value in it as well.
We are sorry that this post was not useful for you!
Let us improve this post!
Tell us how we can improve this post?